VIEHHANDLUNG KRÜMPEL GMBH
TOP-OF-THE-RANGE TRANSPORT CONDITIONS ARE OUR HALLMARK

Livestock trade and transportation according to the highest standards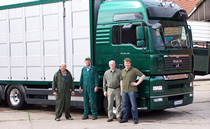 Welcome to our website. It is designed to provide you with virtual information about us and our family company.
Since 1871, we have been your responsible partner for livestock trade and transportation, providing the whole range of services that goes along with this all from under one roof. The trading, transportation, housing and feeding of animals are all co-ordinated by us.
We are both an EU and third country loading site and also take care of all related (customs) formalities.
We want to guarantee professional order processing. Our company is qs-certified.
Our registration number is: 055 66096 50 20.
We look forward to receiving your request.
Your Viehhandlung Krümpel GmbH